About PDF Labs
Our mission is to make PDF easier to use.
PDF Labs is operated by Sid Steward, author of PDF Hacks (O'Reilly) and the popular PDF Toolkit.
Please contact Sid Steward by email. Include PDF Labs in the subject to ensure prompt delivery:
---
About PDF Hacks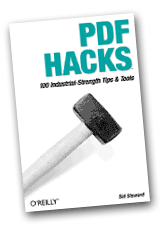 "If you like pdftk, then you'll appreciate the other 25 programs and scripts I created for my book, PDF Hacks." –Sid
---
About PDFtk
For ten years, power users have relied on PDFtk for server-side processing of PDF documents. Our command-line PDFtk has been — and always will be — free (as in freedom) software.
Today we also offer a convenient graphical application: PDFtk Pro. Your purchase of PDFtk Pro will help fund the continued development of our GPL PDFtk.
Thank you for your support!
---